The Best Disney Movies in Spanish: A Magical Cinematic Journey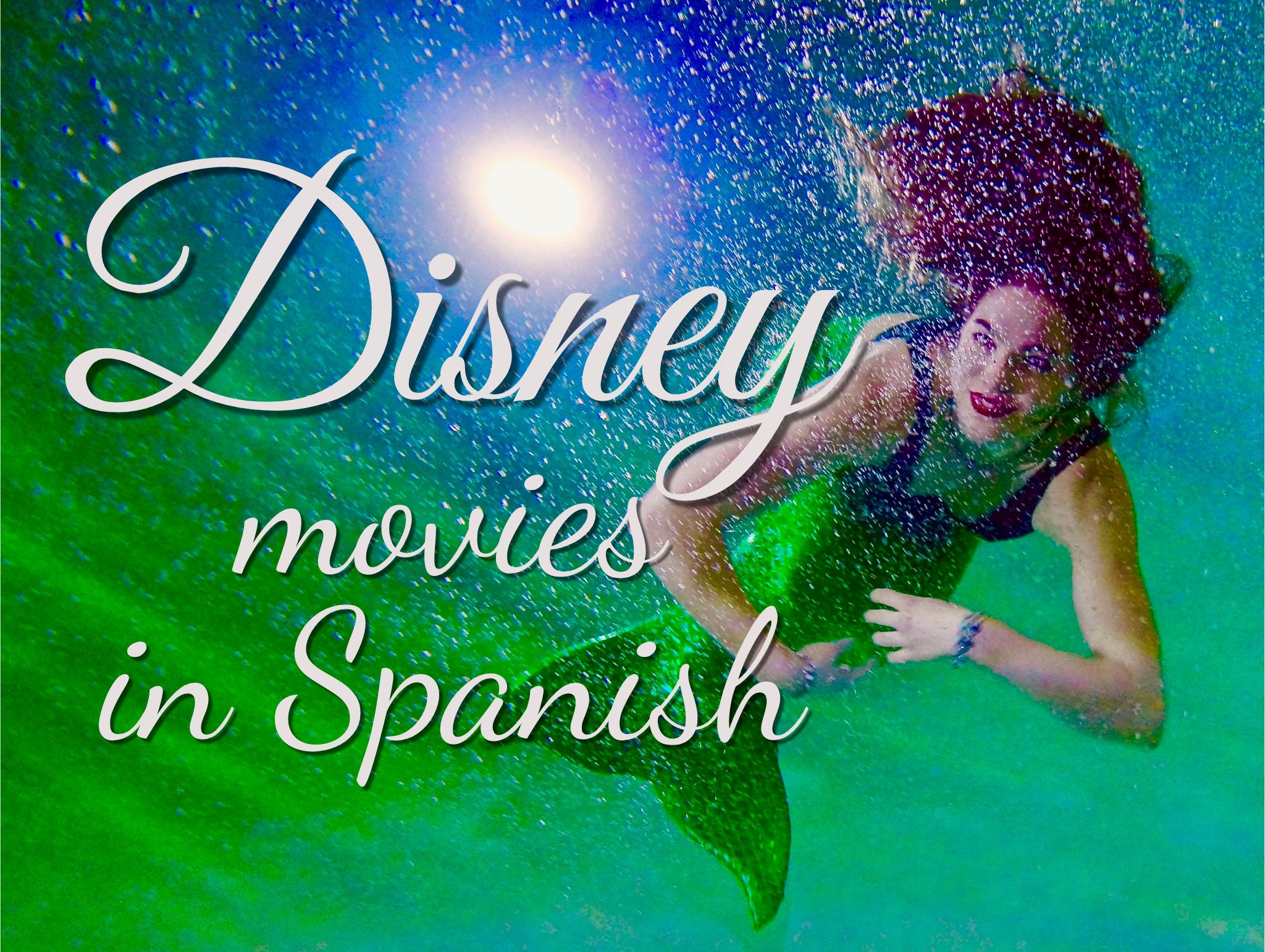 Get our free email course, Shortcut to Conversational.
Have conversations faster, understand people when they speak fast, and other tested tips to learn faster.
More info
Disney movies have captivated audiences worldwide with their enchanting stories and beloved characters, from princess movies to funny family movies where everything turns out perfectly at the end. And while many people are familiar with the English versions, there's a whole world of magic waiting to be discovered by watching Disney movies in Spanish.
Not only can it be a fun and enjoyable experience, but it also offers a unique opportunity to learn and practice the Spanish language while connecting with the rich culture associated with these films. Native Spanish speakers often feel a special connection to the dialogues and Disney songs in Spanish, as they were an integral part of their childhood.
Disney Movies in Spanish: Latin America vs Spain
Before we dive into the fun, you have to know that most Disney movies in Spanish have two different versions: one for Spain and another for Latin America. The reason for this can be attributed to the linguistic and cultural diversity across Spanish-speaking regions. As a result, Disney typically produces separate audio versions to cater to different Spanish-speaking audiences.
In our post, we focus on the Latin American versions of these Disney movies in Spanish, but that doesn't mean one version is better than the other, or that you should stop there! If you're curious and wish to explore and learn about different nuances, accents, and vocabulary, watch the same films in Spanish from Spain as well!
Moving on from the disclaimer, let's begin with our top 12 Disney movies in Spanish!
El Rey León – The Lion King
This timeless classic is a great way to begin your marathon of Disney movies in Spanish. El Rey León tells the story of Simba, a young lion who embarks on a journey to reclaim his rightful place as king. The Spanish version of El Rey León captures the emotional depth of the film, with outstanding voice performances that bring the characters to life.
The most iconic songs are "Hakuna Matata," and "El Ciclo sin Fin" (meaning "the endless cycle"), which is the Spanish version of "The Circle of Life." Both of these amazing Spanish Disney songs resonate just as powerfully as in English, making this film a must-watch for Disney enthusiasts.
Mulán – Mulan
This inspiring movie tells the story of a brave young Chinese woman who disguises herself as a man to join the army in place of her father, who was old and sick. Her courage and determination are such that she manages to defeat the Huns and be recognized as the savior of China.
The song "Reflejo" ("Reflexion") is just as powerful in Spanish and really conveys Mulán's sadness and feelings of inadequacy. "Hombres de acción" ("I'll Make a Man Out of You") is a fan favorite, and you'll surely find it on any playlist of Disney songs in Spanish.
Hércules – Hercules
This epic adventure through Greek mythology follows the journey of the heroic Hercules in his quest for discovering his true identity and worth.
Hércules has one of the best Spanish Disney songs a movie could have, "Llegaré a mi meta" ("I Can Go The Distance"), which captures the determination and triumph of Hercules's quest.
La Sirenita – The Little Mermaid
Besides being one of the best Disney princess movies of all times, La Sirenita is also one of the most beloved Disney movies in Spanish. The story of Ariel, a young mermaid who dreams of exploring the human world, captivated everyone's heart.
The Spanish-language version of this film brings Ariel's journey to life, with memorable songs such as "Bajo del Mar" ("Under the Sea") and "Parte de Él" ("Part of Your World"). The Spanish version of "Part of Your World" is particularly noteworthy, as it beautifully captures the longing and curiosity of Ariel's character.
Tarzán – Tarzan
Tarzán tells the story of a young boy raised by gorillas in the depths of the jungle. He embarks on a journey of self-discovery and grapples with his identity as he encounters humans for the first time. The story explores themes of belonging, love, and acceptance, and celebrates the importance of embracing one's true self.
As a wonderful fun fact, Phil Collins composed and sang the soundtrack of both the English and Spanish versions!
101 Dálmatas – 101 Dalmatians
This lovey film tells the story of Pongo and Perdita, two dalmatian parents who embark on an adventure to rescue their stolen puppies from the evil Cruella de Vil. The Spanish dubbing of this classic film captures the humor and excitement, making 101 Dálmatas a joy to watch and a great opportunity to learn and practice.
The Spanish version of the catchy song "Cruella de Vil" maintains its villainous charm, adding an extra layer of fun to the film.
Aladdín – Aladdin
A classic among classics, this is a must-watch as you experience the various Disney movies in Spanish. This enchanting tale of love and adventure follows the journey of a young street urchin named Aladdín who discovers a magical lamp with a genie inside. With the genie's help, Aladdin seeks to win the heart of a princess and defeat an evil sorcerer.
Standout songs like "Un Mundo Ideal" ("A Whole New World") and "Un Amigo Fiel" ("Friend Like Me") add to the film's magical allure.
Coco
Coco is a heartwarming and visually-stunning film that celebrates Mexican culture and the importance of family. Unlike other Disney movies in Spanish, the voice actors recorded the dialogues and songs in both Spanish and English, with a cast of Hispanic individuals. The film's dedication to cultural authenticity is evident by using the same dubbing for both Latin America and Spain.
Coco has an amazing range of clever and touching songs, but "Recuérdame" ("Remember Me") stands out, becoming an anthem of remembrance and love. It's a must-watch!
La Cenicienta – Cinderella
La Cenicienta is another classic in the genre of Disney princess movies in Spanish. It tells the story of a young girl who, despite a life of mistreatment by her stepmother and stepsisters, overcomes adversity and finds her happily-ever-after thanks to her kindness, resilience, friendship, and the help of a Fairy Godmother.
The soundtrack is just dreamy, and a great option to both enjoy and practice your Spanish. "Esto es Amor" ("So This is Love") is the perfect love song, while "Soñar es Desear" ("A Dream is a Wish Your Heart Makes") conveys Cenicienta's longing and her never-ending hope.
Las Locuras del Emperador – The Emperor's New Groove
Las Locuras del Emperador tells the story of Emperor Kuzco, a self-centered ruler who ends up being transformed into a llama and embarks on the journey of his life with Pacha, a kind-hearted peasant who teaches Kuzco many lessons about friendship, humility, and compassion.
Inspired by Peruvian culture and the Incan Empire, watching this Disney movie in Spanish enhances its authenticity! Besides, this is a really fun film with very sharp humor, and it has its own clever jokes and puns in Spanish.
Enredados – Tangled
Enredados is a modern retelling of the classic fairy tale "Rapunzel," the long-haired princess living high in a tower.
The Spanish dubbing of this film captures the charm and humor of Rapunzel's journey, accompanied by enchanting songs such as "Veo en ti la Luz" ("I See the Light") and "Mi Sueño Ideal" ("I've Got a Dream"). These enchanting melodies are skillfully performed in Spanish by Chayanne, a highly beloved Latin American singer, and Danna Paola, a very popular singer and actress, and have steadily become favorites among fans of Disney songs in Spanish.
Encanto
This is one of Disney's latest releases, introducing audiences to the magical world of the Madrigal family in Colombia. The film follows Mirabel, the only family member without magical powers, as she uncovers the truth behind their extraordinary abilities. The Spanish version of Encanto features a talented cast of native Spanish-speaking actors who bring the characters to life with their performances. Their intonations, accents, and emotional expressions capture the essence of the characters and cultural background, creating a more immersive and genuine experience.
Plus, it has great tunes, such as "No Se Habla de Bruno" ("We Don't Talk About Bruno"), and the heart-touching "Dos Oruguitas," interpreted by Sebastián Yatra, a very popular and talented Colombian singer.
Conclusion
In this magical cinematic journey through the best Disney movies in Spanish, we've covered classics, princess movies, and recent films inspired by Latin American culture. Watching Disney movies in Spanish offers a unique and enjoyable experience, allowing you to connect and immerse yourself in their rich cultural context, and test and improve your listening skills.
Whether you're revisiting timeless favorites like El Rey León and La Cenicienta, or exploring newer gems like Coco and Encanto, these films provide an enchanting adventure filled with laughter, love, and unforgettable Disney songs in Spanish. So grab some popcorn, sit back, and let the magic unfold. See you in the next post!