Unlimited Spanish Tutoring For $99 a Month
One-on-one classes with professional teachers, focused on real communication.
"BaseLang's unlimited tutoring is the closest thing to immersion you can get without moving to a Spanish-speaking country"

Professional, Friendly Teachers
Teachers make or break a lesson. That's why all of ours have 6 year degrees in teaching Spanish. We've hand-picked the best ones from hundreds of applicants. And with so many teachers to choose from, you're bound to find one you love.


HOW IT WORKS
Imagine you've just signed up for BaseLang. You finish the 30 second signup process, pay $1 for your first week, and are redirected to our platform. What now?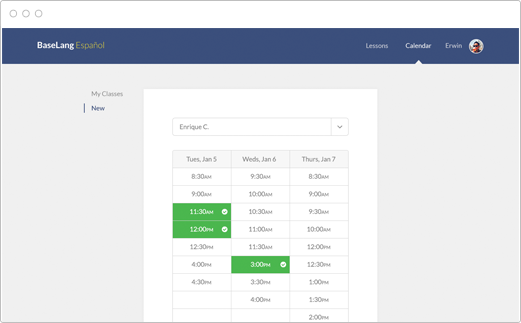 Book Classes Easily
When we say unlimited, we mean it. No caveats. And we have enough teachers to make sure you can book all the classes you want, even at the busiest times.
We have teachers available from 6am to 12am Eastern.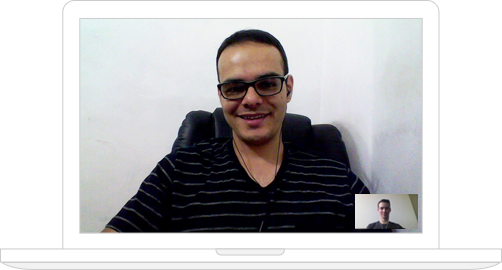 Your First Class
Your first class will be a "diagnostics" class. This is where our teachers figure out what level you are at, learn about you and your interests, explore your preferences for learning, and your goals.
After this lesson, our teachers will take what you've told us to customize your experience with BaseLang.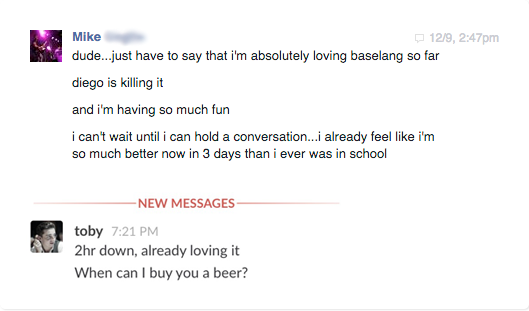 Laugh until you cry
Being an amazing teacher is a requirement at BaseLang, but it doesn't get you hired. We hand-pick the most friendly teachers – ones we'd want to hang out with.
We've had students tell us they cried laughing during a class. That they don't really consider the classes as work, because they are just talking with a friend.
This does wonders for your motivation. Better yet, fun is backed by psychology to improve learning speed and retention.
Your Personalized Experience
No student's experience is the same. There's no algorithm in the background here – just real people focusing on your interests, your challenges and weak points, and adapting the curriculum to maximize your progress.
Here are a few example situations:
Your first week is just $1.
If you don't love it in the first 35 days, you'll get a full refund and an additional $20 for wasting your time.
JOIN NOW FOR $1
FAQ
Is BaseLang Just for Beginners?
No, BaseLang is not for any particular level. We have an optimized curriculum (which adapts to the individual) that gets beginners to progress very quickly to being conversational, and then all the way to fluency. We adapt your classes and experience to your level.
Advanced students will enjoy maintaining their level, getting much-needed speaking practice to solidify their book knowledge, and getting their Spanish rough edges tweaked so they can speak perfect Spanish.
Do I have to follow BaseLang Curriculum?
No. If you are following another program, or one of your own design (go you!), you can definitely use BaseLang in "sandbox mode", where you just tell our teachers how you want to be taught, and what you want to cover next.
Even if you follow our recommended curriculum, you can take classes to discuss whatever you want - we are here to help and adapt to you, after all.
Can multiple people use one account?
No. It's unlimited for one person. If you have friends, family, or colleagues who would like Spanish tutoring, they need their own account.
What kind of Spanish do you teach?
We teach the Spanish that is spoken in Latin America (which is what is spoken in South America, Central America, and the vast majority of Spanish spoken in the United States).
Though Latin American Spanish is 90% the same as the Spanish from Spain, there are some differences. If you go to Spain with the Spanish you learn with us, you will be able to communicate completely fine. People will know that you're "not from there" and you may not recognize some things they say. We suggest getting to a conversational level with BaseLang and then going to Spain to tweak your Spanish to being more Iberian if that's where you will speak it.
Is it really unlimited?
Yes, it is really unlimited. No caveats. Your brain will melt before we kick you out (which is never). You won't get an email asking you to calm down if you start "abusing the system". We want you to take as many classes as you want and as you can.
We have extra teachers available during the most popular hours, so don't worry about "having unlimited classes" but not actually being able to book any due to availability. We make sure there are always enough teachers available.
How are you even able to be in business at this price?
We can make this work as a business for two main reasons:
1. The economics of hiring teachers in Latin America mean we can pay wages that are higher than what our teachers would get elsewhere, but low enough that the margins work.
2. Most people won't use a bazillion hours a day, even though we actively encourage it.
Can I use multiple teachers?
Yes! You can use as many different teachers as you want. All of your progress, as well as info about your interests and goals is all in our teacher's system, meaning every new teacher will be able to pick up where the last one left off.
Most of our students use 1-2 teachers primarily and use other teachers as practice speaking with someone new - for a different accent, or just a change of pace.
Clarify the pricing. Is there a contract?
BaseLang is month to month, no contracts.
Your first week is $1
After that, you are automatically charged $99 every month. Cancel at any time with 2 clicks.
If you aren't happy in the first 35 days, get a full refund plus an additional $20 for wasting your time
Month-to-month. No contracts
Get 2 months free by paying annually ($999 a year)
Why should I use BaseLang over a free language exchange?
First, though friendly, most people in language exchanges aren't very good at explaining things to you. In fact, you probably can't explain English well either, because as a native speaker, things just make sense.
For instance, what's the difference between "may" and "might"? Or why we say "big, red house", not "red, big house"? It's the same for a native Spanish speaker that hasn't been trained to teach - they don't know why things are, and can't explain things better than, "I don't know, that's just how it's said".
Second, it actually ends up being cheaper. When you do a language exchange, you instantly double the time it takes to learn, as you're in English half the time. Assuming an hour a day, going from nothing to conversational, you're saving ~$3.30 an hour by using an exchange over BaseLang. You can make more than double that in a minumum wage job.
Will BaseLang offer other languages?
No. We are 100% focused on Spanish.
Will baseLang work for my situation?
If you need Spanish for a specific use case, you're in luck - 95% of things will be the exact same. All that changes is you'll need to learn the vocabulary for your specific needs.
We already have the vocabulary prepped and ready for the most popular "edge cases".