Major News! DELE is Now Free to Real World Students
Get our free email course, Shortcut to Conversational.
Have conversations faster, understand people when they speak fast, and other tested tips to learn faster.
More info
BaseLang's DNA is conversation.
Our goal is to teach students how to speak Spanish for real-life situations – as opposed to most traditional methods which tend to overwhelm you with a bunch of theory and stuff that isn't necessary until a more advanced stage.
With our Real World and Grammarless programs, we have helped thousands of students become conversationally fluent.
So what happens after you complete these programs?
If your primary goal is speaking, then you can continue taking conversational classes with our Real World tutors.
However, we know that after becoming conversational, some students want to take structured lessons to get to the next level. To really polish their Spanish, and improve their advanced reading and writing.
For that reason, we created the DELE exam prep program a couple of years ago.
This program used to be sold separately, for $199/month.
However, we are delighted to announce that starting today, all Real World students will receive free access to our DELE program.
You now get access to both Real World & DELE programs for $149/month.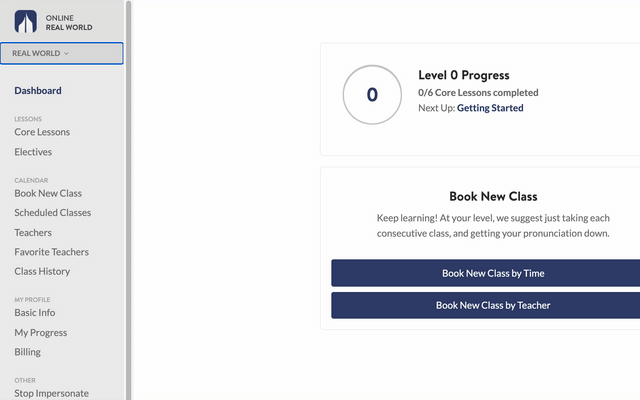 What is DELE?
DELE is the most widely recognized certificate of Spanish proficiency in the world, with over 60,000 tests taken each year. The test covers the four core areas of language – reading, writing, speaking, and listening.
It's where the terms A1, A2, B1, B2, C1, and C2 come from. These are "official" levels of Spanish.
Who is this program for?
There are three types of students who take DELE.
#1: The Exam Taker
You need to have a DELE certificate of your level in Spanish (whether that's B1, B2, C1 or C2) for your job, other professional reason, or just because you want the certificate. You already know you need to pass the exam, so you're just looking for the right program to get you there without costing an arm and a leg.
#2: The Real World Graduate
You have no need to pass the exam. You completed the Real World program, and are at a conversational level. Now, you want to advance your Spanish by taking structured lessons, with firm benchmarks to measure yourself against. Rather than focus only on conversation, you want to level up your writing and reading skills.
How is the DELE Curriculum structured?
With DELE, you can choose two paths:
Test Prep: If you intend to take a DELE exam, then these lessons will help you prepare for that scenario with lessons structured exactly the same as you'd expect in an exam setting, and also mimicking the conditions for that exam (i.e. time limits).
Skills Improvement: Similar to the above, but for students who don't intend to take the actual exam. You'll still learn the language in a structured way, but without the arbitrary exam conditions.
Whether you are taking an exam, or a Real World graduate, the DELE curriculum is structured to cover all four areas of Spanish: reading, writing, speaking and listening.
Depending on which skill you want to improve, DELE lessons consist of the following:
Reading comprehension: These lessons contain stories, literary fragments, news, emails, and articles whose complexity is appropriate at the student's level.
Listening comprehension: These lessons are audio-based, using samples such as: announcements, instructions, radio interviews, among others; appropriate to the student's level – All of which will help the student develop their listening skills.
Written expression and interaction: You'll learn to properly craft various forms of written communication, such as: reviews, emails, formal letters, and more.
Oral expression and interaction: Consists of activities in which the student will test their ability to express their ideas in an orderly manner, as well as their pronunciation, vocabulary, and grammar.
____
In addition to the above, DELE offers additional materials on:
Grammar: Ad-hoc lessons to help you tidy up lingering grammar mistakes.
Electives: Just like our Real World program, the electives cover a wide range of subjects, whether they are related to daily life, or more nuanced themes.
___
FAQ
So I don't need to take a DELE exam?
Not at all.
In fact, only 50% of past DELE students have taken the actual exam. The other students have used our DELE program to continue progressing with structured lessons after completing the Real World program.
Is DELE suitable for all levels?
No. This program will take you from A2 to C1, depending on your level, so you should already be conversational before starting.
We only recommend the DELE program to students who already completed our Real World program.
How much does it cost?
Real World students get access to DELE for free.
How is DELE different from Real World?
Both curriculums are very different.
Real World is 100% focused on improving your speaking skills, and helping you become conversationally fluent. This program will get you to approx an A2 level.
DELE equally focuses on all 4 areas of language learning: speaking, reading, listening and writing. This program is suitable for students who already completed the Real World program, and those already at an intermediate to advanced level.
Can I use DELE + Real World at the same time?
Yes. Once you complete the Real World curriculum, you can still book classes with Real World teachers for conversational practice, and use DELE for more structured lessons.
Why are the teachers on DELE & Real World different?
Not every teacher is trained on DELE, since the material is so specialized. For this reason, many Real World teachers do not teach DELE, and vice versa.
Why are DELE slots 60 minutes?
Since DELE covers all four areas of language learning (reading, writing, listening & speaking), the lessons tend to be dense, and thus require more than 30mins.
I only care about conversation. Can I stick with Real World?
Absolutely. If you complete the Real World curriculum, and prefer to focus solely on conversational practice, then the Real World program has more than enough bonus activities to keep you busy, and continue developing your conversational skills.
I'm not sure if I'm ready for DELE!?
Simply schedule your first DELE class, and the teacher will ask you to complete a quick assessment to determine what level you are at.
If you're ready, then you can continue with DELE.
If you're not ready, we might recommend that you complete a few extra Real World classes.
If you're almost ready, we might recommend starting DELE with some specific Grammar focused lessons, before moving on to the main curriculum
Any success stories from DELE?
Glad you asked – here are some of our favorites :)