The New BaseLang Platform is Live!
Get our free email course, Shortcut to Conversational.
Have conversations faster, understand people when they speak fast, and other tested tips to learn faster.
More info
For the last 12 months, we've been working hard to build a completely new platform that will improve every single aspect of your current BaseLang experience.
We're excited to tell you that as of  July 4th, 2023, the new BaseLang platform is live!
Read on to see some of the new features that all our BaseLang students will enjoy, starting today!
Five Things To Get Excited About
#1 Your New Dashboard
This is where you'll start each session after logging into the platform.
On this page, you have a quick way to:
Click the video icon to open your next class on Zoom
View all upcoming classes
Schedule classes by time, teacher, or directly with your favorite teachers.
See how much progress you've made on your current level
Quickly go to your next lesson in the curriculum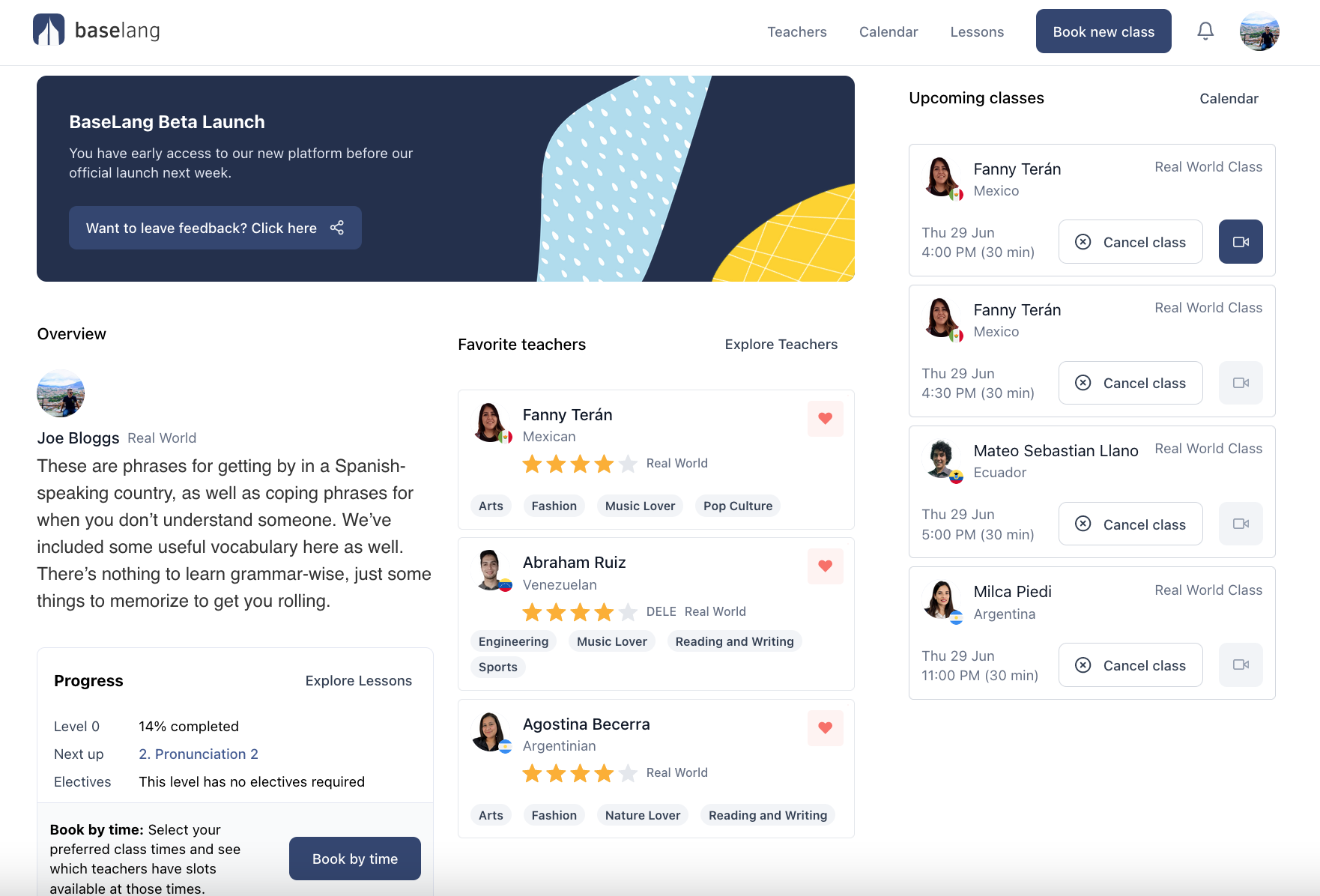 #2 Saved Class Notes
No need to worry about where to store any class notes from your classes.  From now onwards, your teacher will copy and paste class notes from Zoom into the chat history section of the platform so that you always have a record of class notes.
#3 Better Teacher Discovery
With over 400+ native teachers to choose from, we know that exploring new teachers can sometimes be a bit overwhelming.
So, we've made it easier for you to discover new teachers.
Let's take a closer look at the teachers' section of the platform.
Nationality
We are proud to have teachers from all over Latin America, and now you can apply filters to search for teachers based on their nationality.
Saved Teachers
Want to keep a list of teachers you like or are interested in taking classes with?
Now you can with saved teachers, which allows you to bookmark teachers you're interested in. So when it's time to book a class, you can apply the saved teachers filter to only show slots available with those teachers.
Favorite Teachers
Just like before, Real World students can select up to three favorite teachers to book with up to 7 days in advance. We added a shortcut to your dashboard to make booking these teachers easy, in addition to a favorite teacher filter when booking classes.
We also display how many students have a specific teacher selected as one of their favorites, which can help you decide whether you want to have that teacher as a favorite too.
Ratings
Now you can see how a teacher was rated by all their students over a 30-day rolling period. Not only does this help you decide who to take classes with, but it also gives our teaching department a way to monitor which teachers could use additional training and improvement.
Working Hours
From now on, you can view the typical schedule that a specific teacher works, in addition to actually filtering teachers by working hours. You can also apply this as a filter when looking for new teachers (e.g. show me teachers working 10am to 2pm on Mondays and Wednesdays).
Personal Notes
In each teacher's bio section, you can now save your personal notes about a specific teacher to help you remember information about them. Any note you save is private and not viewable by the teacher.
#4 Improved Curriculum
We are excited to also bring you a much-improved Real World curriculum.
Here are some of the changes we made:
Expanded lessons so that you can dive deeper into core concepts
A dedicated review lesson for each level so that you can easily refresh your memory
Interactive learning games to help make classes more engaging
Bonus homework assignments for students who want to study outside of class
Even more new electives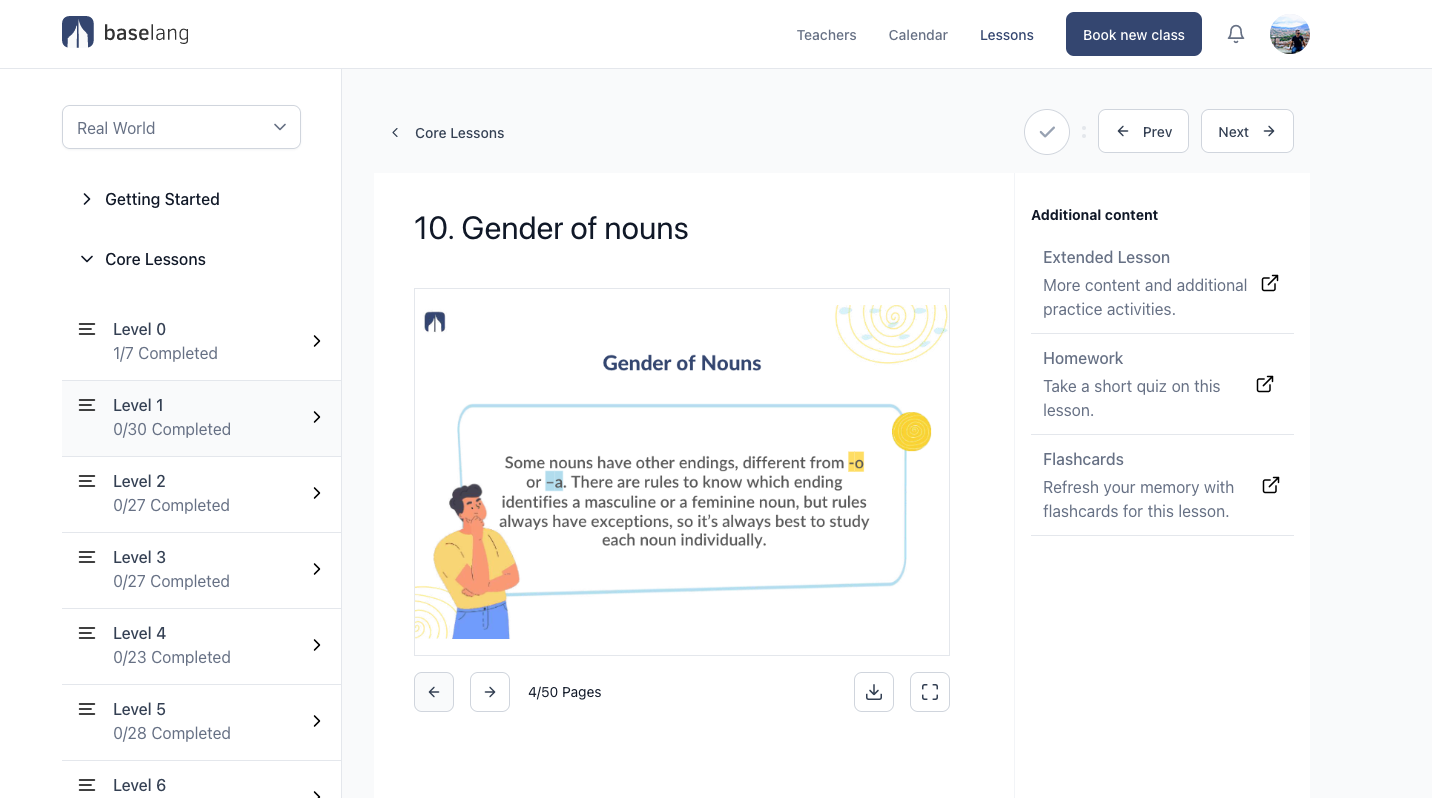 #5 Your Account Page
Clicking on your profile photo in the top right-hand corner of the platform will bring your account settings page, where you can view:
My Classes: All of your upcoming and past classes in one place.
Notifications: You control which email or platform notifications we send you.
Billing and Plans: View your next billing date and make changes to your subscription.
Referral Program: Find your unique referral code. Use it to earn one free month of Real World online.
Give Feedback: Have an idea for a feature you'd like to see? We'd love to hear from you.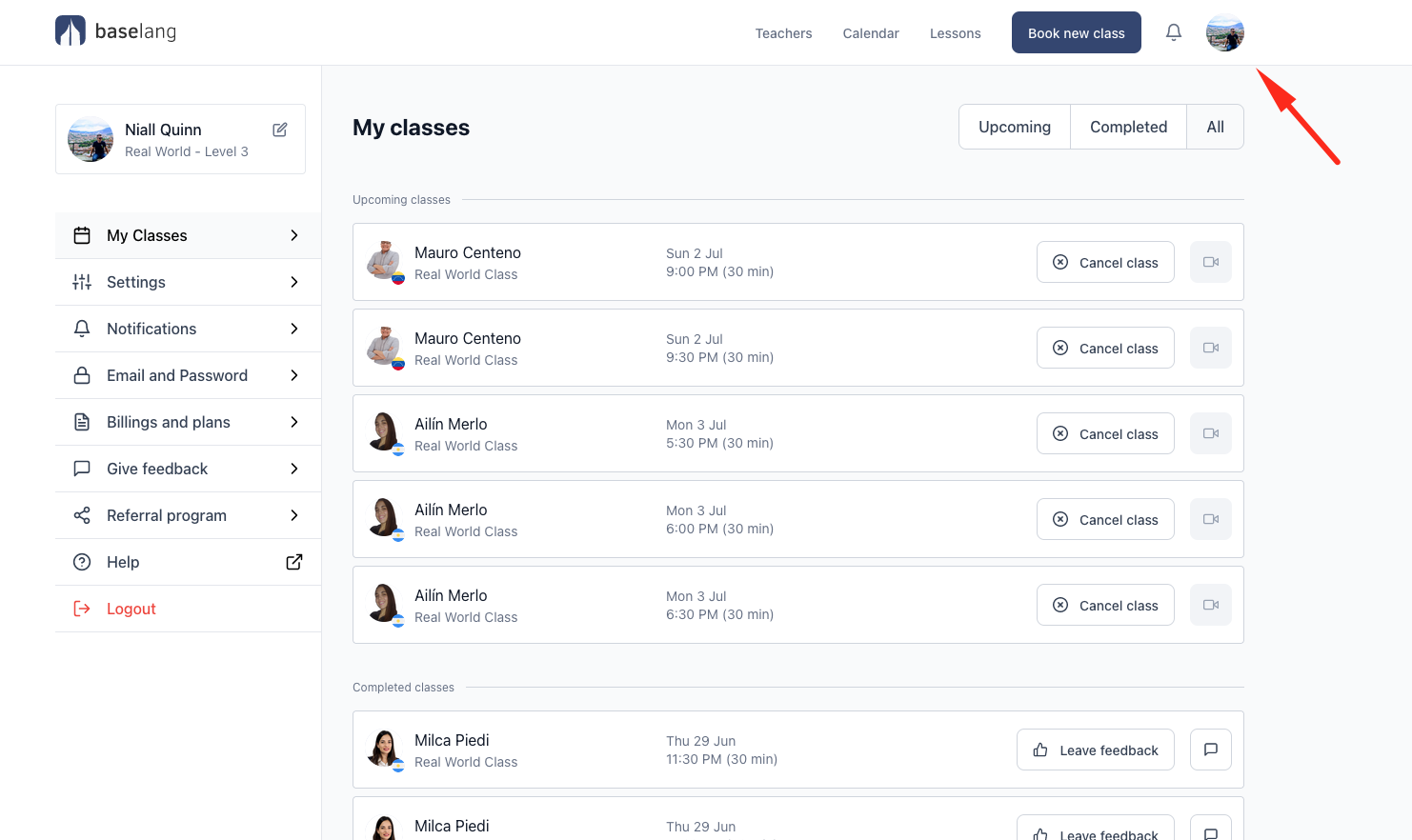 FAQ
How do I log in to the new BaseLang platform?
The first time you go to the login page on the new platform, you'll be automatically redirected to the new platform.
From there, simply click the "Forgot My Password" option to reset your password and confirm your new login credentials.
Do I need to do anything else to start using the new platform?
Nope! All of your data is automatically transferred, including your scheduled classes.
Will my current progress be saved?
Absolutely! We keep an internal progress sheet for each student (accessible to teachers only), and this will be automatically added to your profile on the new platform. As always, your teachers can see where you are and continue to update your progress.
When you log in, you should see that your current level is updated on the new platform.
The only thing we were unable to transfer was electives and individual lessons you marked as complete.
When you take your first class on the new BaseLang platform, your teacher will take a few minutes with you to mark as complete the elective lessons you've already covered. (You're free to do this on your own too, but it's easier with a teacher since they have a record of everything you've covered.)
What do I need to download in order to take classes?
All you need to do is create a free Zoom account here and download the app here. Zoom is available on desktop and all mobile devices, meaning that you can take classes anywhere as long as you have a good internet connection.
How does the update to the Real World curriculum affect me?
You should notice a big improvement in the quality of our curriculum, most notably with more lessons on some of the tougher topics (I'm talking about you, Subjunctive!). Overall, lessons are more dynamic in order to make the learning experience more engaging and enjoyable.
Some lesson topics were also reorganized to move up or down a level.
In your first class, your teacher will quickly review where you are to see if you missed any lessons that were moved down a level. You can then take a class on that specific topic before moving forward as normal.